Tianfu ERP chemical fiber solutions
 It is especially suitable for technical management of color silk such as polypropylene fiber.
Tianfu Chemical Fiber ERP is suitable for DTY, POY, FDY, colored silk and other fiber industries. It provides functional modules for each production link of chemical fibers. Each module is interconnected and independent of each other. Due to the adoption of advanced application technology and software architecture ideas and implementation platform, the entire chemical fibre ERP software has become a chemical fibre industry. The development platform of industry edition ERP is open, fast and simple, which makes the functions of ERP fully meet the needs of the enterprise itself, and can be constantly updated in the whole life cycle of the enterprise, and changes with the development of the enterprise.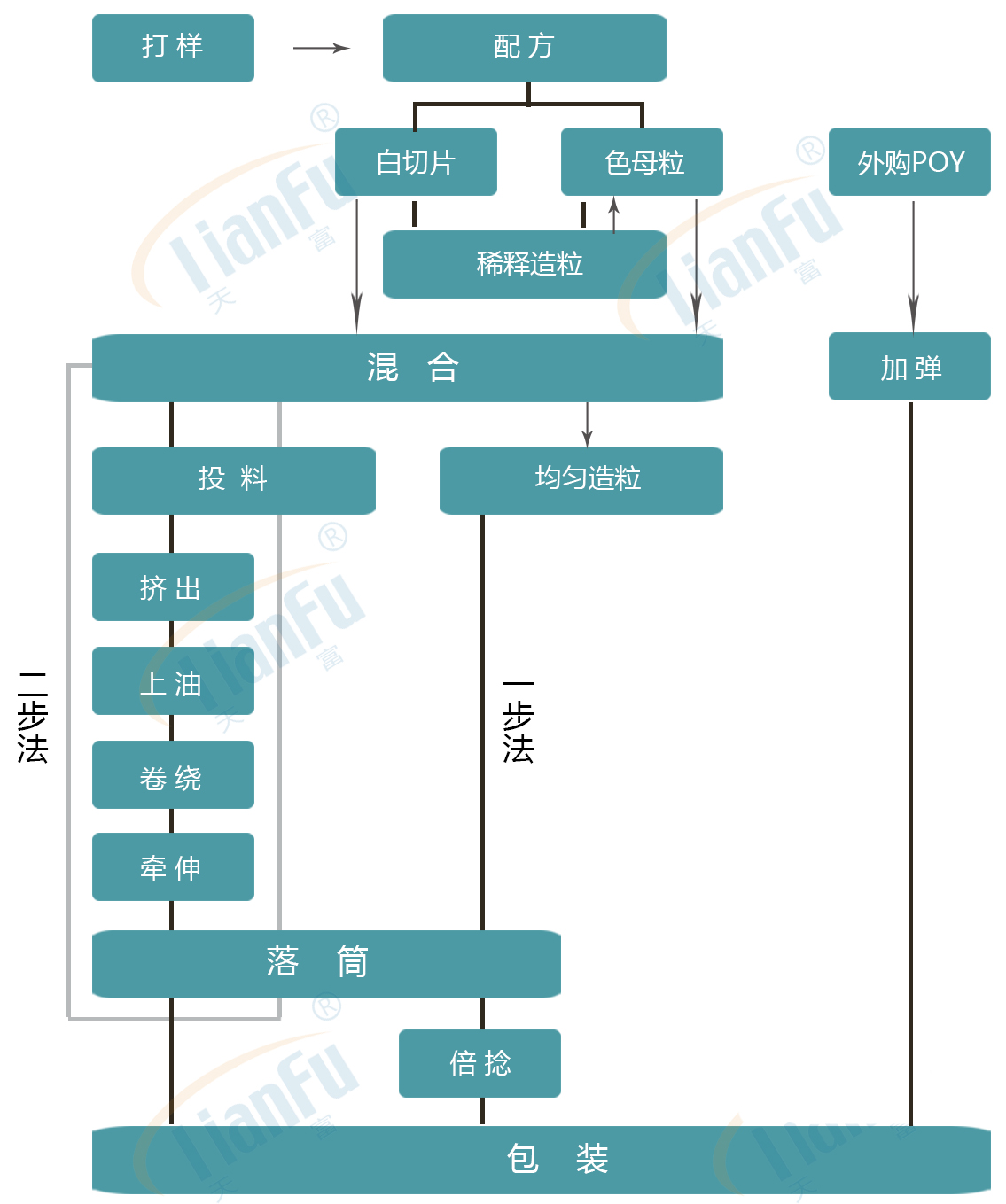 1. Including order, procurement, warehousing, technology, production, work report, packaging, PDA shipment, quality, finance and other integrated management, support bar code technology (specifications, batch numbers, quantity, first in first out and other control);
2. Integrating the concept of "order by sale" and "order by production", we can not only formulate sales order contract, but also formulate material preparation order, arrange the production of each machine, the use of raw materials, production inspection, packaging, warehousing and so on.;
3. The system provides price setting, price adjustment and other functions to support the price management policy. If the price does not conform to the abnormal changes of the price policy, the system can automatically start the approval workflow of the information system and submit it it to the relevant managers for approval.;
4. It is especially suitable for the technical management of colored yarn such as polypropylene, including the management of sample, color plate, sample, formula and process;
5. Piece-by-Piece Wage Management for Different Processes of Mixing, Dilution, Extrusion, Winding, Drawing, Winding, Double Twisting, Elasticity and Spinning;
6. Purchasing warehouse management of raw materials and accessories such as polyester slices: provide polyester slices purchase order, storage, storage, inventory, profit and loss function modules, multi-warehouse statistics of polyester slices inventory, planned storage, cost statistics;
7. It can also directly formulate production planning and dispatching instructions data, overall arrangement of the production of each machine, polyester chip usage, production inspection, packaging, storage, etc;
8. The approval process can be designed according to the actual situation of the enterprise, and the production scheduling data can realize the division of labor and cooperation to input different data;
9. Provide the modification function of order and production scheduling data, automatically record the change data before and after each change, automatically modify the subsequent relevant data information;
10. Provide automatic measurement and packaging system, automatic collection of electronic weighing data, automatic printing box label, automatic storage, improve the efficiency of packaging storage. Provide bar code management and pallet management function;
11. Provide external processing module: Outsourcing raw material management, outsourcing processing and warehousing management;
12. Sales of out-of-warehouse weights, integrated intelligent terminal equipment, intelligent acquisition of delivery box number, stack board number, according to the box number out of warehouse, can also be according to stack board out of warehouse;
13. Finished wire inventory management: provide non-freezing inventory method, scattered inventory method, support intelligent terminal bar code acquisition equipment;
14. Provide receivables and payables management, generate payables and accounts payable data according to purchasing data, real-time statistics of accounts payable information; generate accounts receivable and accounts payable data based on sales and shipping data, real-time tracking of actual invoice data and accounts payable, real-time tracking of customer accounts receivable information;
15. Provide a variety of data import and export functions, support fast export to Excel function, provide custom format export to Excel, Word function, provide a variety of basic data import functions, even the initial data can be imported from Excel, so that ERP system can be quickly initialized, quickly put into ERP operation.